A recent Letterbug highlight for me was meeting and working with Maryanne Priestley of Little Bird Decor. My brief was to write a introductory press release for Little Bird Decor, and the theme was "A million smiling faces".
With such beautiful wall art on offer, Little Bird Decor will be the source of far more than a million smiles. Is there such a thing as a cazillion?? Here is a taster of Maryanne's press release: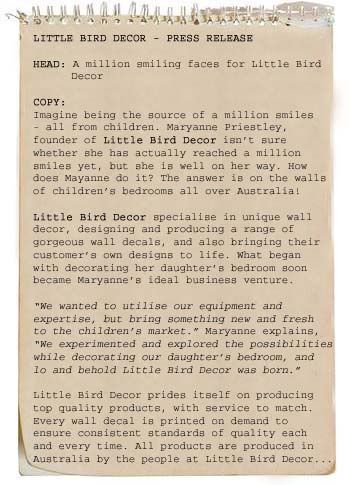 For more information about these tip top quality Australian designed, Australian made decals from Little Bird Decor, click here. They are so cute!

This press release is a good example of how an interesting angle can make promoting your business so much easier and way more fun! Taking the time to look beyond the obvious when working on your PR campaign can really pay off. A unique angle makes your efforts all the more memorable. And that's what we're after, right?
Jen x