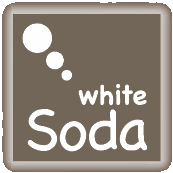 As the chilly weather takes over Melbourne it is hard to imagine we will ever have a need for swimwear again. But with only five weeks until the shortest day of the year, I'm confident we'll be charging headlong towards another scorching Australian summer before we know it.
Two people who are already totally prepared for summer 2011 are the gorgeous Romi and Danielle from White Soda. I recently wrote White Soda's latest press release for these two lovely ladies. The release features White Soda's latest fresh and colourful children's swimwear collection for summer 2011. I couldn't help but be inspired by the gorgeous designs and wonderfully enticing product names that capture the essence of long hot summer days.
Here's a snippety-snip :
To learn more about the super stylish swimwear available from White Soda, click

here

.
It is so important to think ahead when it comes to PR. Don't wait for the weather to start warming up before thinking about your summer campaign! Don't wait for tinsel and holly to be on display before you start work on your Christmas campaign!
Working six months ahead means you can be sending the right information to the right people at the right time to give you and your business the best chance of success.
Need help writing your next press release/bio/media kit?
Send me an email
and let's get started!
Jen x