I love birthday parties, I can't help it. For my 26th birthday I had a fairy party simply because I never had one as a child. And I believe every girl should have a fairy party in her lifetime!
You can imagine then, how excited I was when the delightful Nicky from Chic Party Boutique contacted me in search of help with her web copy.
Nicky had come to the fairly common realisation that while we often know what we're trying to say, sometimes it can be really difficult to get the message across clearly. This is especially true when trying to write about our own business - our 'baby' - the thing that we live and breathe every single day. It really shouldn't be so hard, but gee, often it is the HARDEST thing to write about!
So, the brief from Nicky was to write some fun, relaxed and informative copy that was inviting, concise and easy to follow. We worked on copy for her home page, product descriptions, category descriptions and 'About Us' page.
Simply because writing 'About Us' pages is one of my favourite things, here is a snip of what I put together for Chic Party Boutique's 'About Us':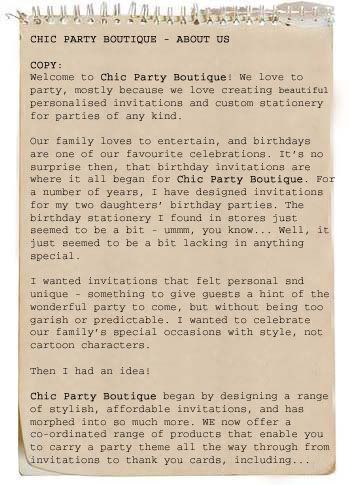 To find out more about the gorgeous stationery available from Chic party Boutique, click
here
.
Have you looked at your web copy with fresh eyes lately? Is it fresh, up to date and full of life? Would a new visitor to your site feel like they're visiting a vibrant hub or a ghost town?
If it's time to give your web copy a boost but you're not sure how,
send me an email
- I can help!
Jen x